Dive Site: Snapper Hole
Location: East End Dive Zone, just a quick boat trip from the Ocean Frontiers dock
Dive Site Background: A favorite among staff and guests alike, it is best known for its intricate maze of swim-throughs, tunnels, caverns, crevasses, and arches.
Dive Site Details: Offers a blend of natural beauty and historical features, including an old Spanish-style anchor from 1872, a coral head shaped like a mushroom nicknamed "Papa Smurf's House," and a remarkable cavern teeming with Dwarf Herring during the summer.
Fun Fact or Anecdote: Snapper Hole was featured in a BBC nature documentary in 2014 due to its unique biodiversity and maze-like underwater architecture.
Practical Information: Keep your eyes open for the Spanish-style anchor, a great spot for a unique photo opportunity. You may also encounter a fearless Green Moray eel swimming through the canyons.
Safety and Conservation: Maintain a safe distance from marine life and respect the natural environment. Remember, you are a guest in their underwater home.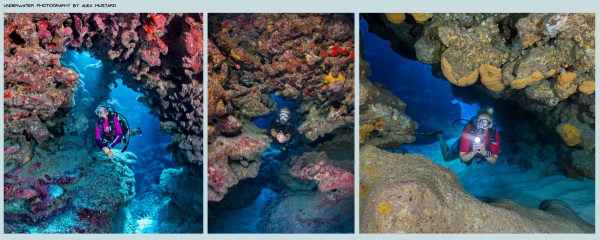 For those seeking a dive filled with wonder and adventure, look no further than Snapper Hole. A labyrinthine paradise beneath the ocean surface, Snapper Hole is a gem among East End dive sites. Each dive offers a unique journey through swim-throughs, tunnels, caverns, and arches that never seem to take you on the same path twice.
In the summer, the caverns come alive with vast schools of Dwarf Herring (Silverside minnows), a sight so captivating it drew the attention of the BBC, who spent two weeks filming here for a nature documentary.
The dive site is also home to an old Spanish-style anchor dating back to 1872. Resting against a coral head, the area around the anchor teems with vibrant marine life, including Bluestriped Grunts and Schoolmaster Snappers. The anchor serves as an ideal spot for a memorable underwater photograph.
As you venture further, look for 'Papa Smurf's House', a unique coral head resembling a giant mushroom. This charming feature adds to the distinct personality of Snapper Hole, making it a favorite among our team.
We caught up with Captain Logan about what makes Snapper Hole so special:
"Snapper Hole is probably the most popular shallow site amongst crew. I've probably dived it about 50 times and I can honestly say I don't think I've gone the same way twice. There's a huge anchor down there from an old ship. There's a big rock shaped like a mushroom, which we call Papa Smurf's House. There's probably the longest swim through that you'll find."
We, at Ocean Frontiers, are proud to be your guides through this underwater adventure, with a commitment to ensure your dive is not only enjoyable but also safe and respectful to the reef's marine life. As our valued guest, we invite you to come and explore the Snapper Hole with us!
About Ocean Frontiers Ltd.
Ocean Frontiers Dive Shop is located on the remote East End of Grand Cayman. Founded in 1996 with one dive boat and a dream to introduce divers to the wonders of East End diving, the company has grown into one of Cayman's premier dive operations with a reputation for legendary customer service and having the island's friendliest staff. Ocean Frontiers is also recognized as one of the most conservation-minded dive operators in the Cayman Islands with a long history of promoting ocean protection through its company programs, and an unwavering support for outside environmental projects. The winner of Project AWARE's Environmental Achievement Award in 2004 and 2010, Ocean Frontiers has again been recognized in 2012. The company also received the PADI Green Star Dive Center accreditation in 2012 for demonstrating a dedication to conservation, the first dive operator in the Cayman Islands to receive this distinction.