Dive & Snorkel Sites of East End
Where we dive on Grand Cayman
Ocean Frontiers dive the East End District of Grand Cayman, North East, East and South East, a total of 55 dive sites. The selection and variety of dive sites we visit are so diverse that we have dedicated this page to break down the different diving zones in the East End District and categorize the types of dive sites in to sets. Scuba diving with Ocean Frontiers dive shop is always about 2 things- the service and the dive sites. The more you know about the dive sites, the more you will enjoy exploring the most amazing reefs of the Caribbean.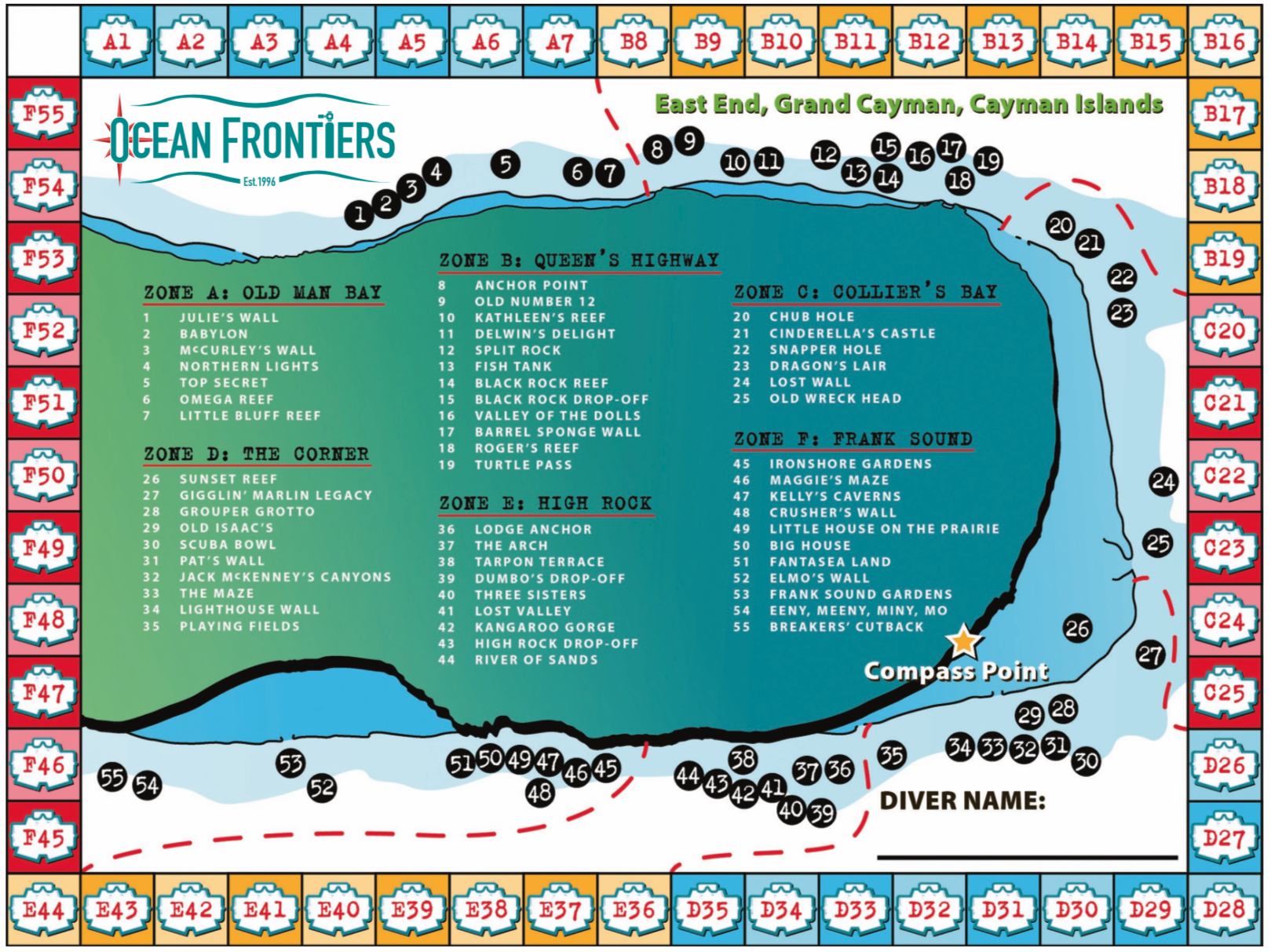 View East End - 55 Sites on a interactive map via Google Maps
The Green Shorts Challenge
Ocean Frontiers dive shop has set out a challenge for scuba divers to visit each of the 55 dive sites within the East End dive zone in Grand Cayman. We consider The Green Short Challenge the equivalent of earning your stripes, or in this case, earning your shorts. Golfers aspire to wear the Green Jacket of the Masters Tournament, Cyclers dream about wearing the Yellow Jersey of the Tour De France, but in the dive world, it is all about your pair of Green Shorts.
The log book will be provided to help divers track and verify which of the 55 dive sites they have experienced and to mark them off their list by receiving a verification stamp from the dive shop after each trip. There is no time limit to completing the challenge and your quest can be spread out over as many dive vacations as you choose. All of the dive site illustrations contained within the log book are from real photographs taken of our hand drawn, dive site briefings boards, all done from the deck of Ocean Frontiers' dive boats. Upon completing the Challenge you will receive an engraved trophy and have a plaque in your name installed on our Green Short Wall of Fame. Only after completing the challenge can you truly appreciate the diverse beauty and wonder of the magical East End scuba diving.
---
East End Dive Zones, Grand Cayman:

A- Old Man Bay (7 dive sites)
This dive zone runs along the North coast of Grand Cayman from the edge of the town 'Old Man Bay' through 'Little Bluff Bay'. This zone is approximately a 30 minute boat ride from Ocean Frontiers dive shop and is frequented most in the summer months when the South East winds prevail and often create flat calm seas in this area. The wall dives in this area are characterized by their shallow starting depths of 40 ft and the vertical sheer drop offs. The shallow dives in this area are dominated by rolling meadows of coral finders and are known for their variety of fish and coral life.
Old Man Bay dive sites, Grand Cayman:
1- Julie's Wall
2- Babylon
3- McCurley's Wall
4- Northern Lights
5- Top Secret
6- Omega Reef
7- Little Bluff Reef
---
B- Queen's Highway (12 dive sites)
This dive zone runs parallel to the Queen's Highway and covers 3 miles of Cayman's reefs and walls, boasting some of our favorite sites. This zone is approximately a 20 minute boat ride from Ocean Frontiers dive shop. In this area the visibility can reach up to 150 ft, offering some of the clearest waters you will find in the world. The wall dives typically start at 60 ft and with large outcroppings on the edge of the drop off, attracting lots of marine life. The shallow reefs offer wide open expanses of coral fingers covered in healthy coral colonies, sponges and small fish life.
Queen's Highway dive sites, Grand Cayman:
8- Anchor Point
9- Old #12
10- Kathleen's Reef
11- Delwin's Delight
12- Split Rock
13- Fish Tank
14- Black Rock Reef
15- Black Rock Drop Off
16- Valley of the Dolls
17- Barrel Sponge Wall
18- Roger's Reef
19- Turtle Pass
---
C- Colliers Bay (6 dive sites)
The topography in this dive zone is unique to the East End of Grand Cayman. The zone is dominated by shallow reef cavern structures resembling giant swiss cheese. This area can be more exposed to the elements, but normally accessible most weeks for a shallow dive that can be the icing on your whole dive trip. The shallow reefs and caverns are full of marine life and always deliver an exhilarating dive. We always can tell by the look on a divers face after their first dive in the Colliers Bay Zone, and the first words out of their mouth as soon as they take the regulator out is….. "can we come back here tomorrow".
Colliers Bay dive sites, Grand Cayman:
20- Chub Hole
21- Cinderella's Castle
22- Snapper Hole
23- Dragon's Lair
24- Lost Wall
25- Old Wreck Head
---
D- The Corner (10 dive sites)
This zone is the melting pot of Cayman dive sites offering the best of everything all in one place- great wall dives and great reef dives, all within a 10 minute boat ride from Ocean Frontiers dive shop and dock. The wall dives in this area start at approximately 60ft and feature many canyon-ways and chutes that lead out on to the drop-off. This part of the wall is best known for seeing Caribbean Reef sharks and large groupers. The shallow dive sites in this zone offer a coral ledge or mini-wall with many canyons and archways that have cut in to the reef structure over the millennium. The shallow dives provide for a haven for countless tropical reef fish.
The Corner dive sites, Grand Cayman:
26- Sunset Reef
27- Gigglin' Marlin Legacy
28- Grouper Grotto
29- Old Isaacs
30- Scuba Bowl
31- Pat's Wall
32- Jack McKenney's Canyon
33- The Maze
34- Lighthouse Wall
35- The Playing Field
---
E- High Rock (9 dive sites)
Named after the pronounced rocky shoreline that is also known for the famous 'Blowholes', is home to a list of iconic Cayman Islands dive sites. The special traits of the wall dives in this zone are the pinnacles. These majestic coral towers defy gravity itself and spire upwards from the depths of the Cayman Trench at the very edge of the drop off. Scuba divers are able to cruise along the wall and then out in to the blue to circle around these massive coral skyscrapers. The shallow dives in this area prove to be one of the best locations for spotting lobsters and nurse sharks.
High Rock dive sites, Grand Cayman:
36- The Lodge Anchor
37- The Arch
38- Tarpon Terrace
39- Dumbo's Lookout
40- Three Sisters
41- Lost Valley
42- Kangaroo Gorge
43- High Rock Drop Off
44- River of Sand
---
F- Frank Sound (11 dive sites)
This zone provides a staple diet of must see sites for even the most discerning diver's log book. The wall dives in this area are some of our most recently discovered and have only been opened up to dive boats in 2010. The shallow dives in this zone include many of our signature dives that have appeared in many scuba diving magazines and are sites that are always sought after whenever we have visiting journalists and photographers. The shallow dives have a similar topography to those in the Colliers Bay area. The sites are approximately a 30 minute boat ride from Ocean Frontiers dive shop.
Frank Sound dive sites, Grand Cayman:
45- Ironshore Gardens
46- Maggie's Maze
47- Kelly's Caverns
48- Crusher's Wall
49- Little House on the Prairie
50- The Big House
51- Fantasea Land
52- Elmo's Wall
53- Frand Sound Gardens
54- Eeny, Meeny, Miny, 'Mo'
55- Breakers Cut Back
---
Individual Dive Site Descriptions

(Geographic Order)
1: Julie's Wall
Drive time: 40 minutes
Type: Wall
Depth: 45' – 100'
Named after Julie, a local nurse who used to love going shore diving at this site on the weekends. While not as well-known as its neighbors, it's a fantastic dive site that is not to be missed. Julie's Wall is the last of our northern dive sites; any further west becomes a government-protected no-dive zone.
Julie's Wall delivers a feature seen on only one other dive site, the unique opportunity to swim underneath the overhanging wall! Breaker's Cutback is the only other site where this phenomenon occurs. This continually twilight environment is favorable to the sponges that usually live much deeper. Despite the shallow depths, the comparative lack of light is ideal for these deep-loving sponges. Their large sizes, vibrant colors, and strange forms are an absolute delight to see.
The miniwall at Julie's sits close to the main wall, and divers can enjoy both worlds in one dive. The shadowy realms of the deep overhang are just a short swim from the bright, sunlit mini wall. Look for Porcupine Puffer Fish that swim just above the reef and often allow divers a slow approach. They have such lovably blunt faces with bulging eyes and tiny mouths! They can also grow surprisingly large, over two feet long in some cases. Look for the small spines covering their bodies which earn them the 'porcupine' moniker.
2: Babylon
Drive time: 40 minutes
Type: Wall
Depth: 40' – 100'
Babylon. The name alone elicits smiles and twinkles in the eye from those who know. It is named after the famous Hanging Gardens of Babylon - one of the seven wonders of the ancient world, but what makes this dive site special? Why is it rated one of the Top 10 dives in the Caribbean?
Firstly, don't let the distance from the dock and its reputation fool you; Babylon is an easy dive. Really easy. We even bring first-timers here to breathe their first breaths in the ocean. We know, we spoil them!
A towering freestanding pinnacle is Babylon's main feature. It is an awe-inspiring sight to behold, rising from the depths at over 100 feet and topping out just 45 feet at its peak. One of our most regular divers even photographed the entirety of its height to feature as a mural in an elevator shaft. Users of the elevator can pretend they are diving in the Cayman Islands, rising from the deep ocean to a dazzling shallow coral reef as they ascend. Certainly, a unique commute to work!
Divers should circle the pinnacle a few times at different depths to fully appreciate the height of this looming column. Swimming between the pinnacle and the wall is a thrilling experience; the corals and sponges on both sides grow towards the other side, leaving a gap just large enough to swim through. You know those front cover magazine photos of divers swimming amongst abundant coral? You bet some of those were taken here!
Having dizzied yourself circling up the pinnacle, the shallow top of the wall is a perfect place to extend your dive time. Enjoy the wide-open expanses of sand and coral fingers and the plethora of marine life that inhabit this bright, sun-filled environment.
3: McCurley's Wall
Drive time: 40 minutes
Type: Wall
Depth: 40' – 100'
This site is named after McCurley Greene, who lives in the house directly onshore. He owns and runs a car rental and airport transfer business.
Like its Old Man Bay neighbors, McCurley's wall is shallow on top, with just 40 feet in places, but the drop-off is just as steep and magnificent as you would expect from Grand Cayman's eastern dives. This shallow top makes the dive easy and accessible for all levels of diver, but it's perfect for the seasoned pros too! Not only can you maximize your bottom time by coming up shallow for the latter part of the dive, but you can also enjoy the visually mind-blowing effect of dropping down to 80+ feet and having the wall extending up far above your head. It feels so much deeper than it is!
Look closely at the black coral and deep-sea fans for Neck Crabs, a type of decorator crab. These crabs take pieces of their habitat, such as algae and detritus, and place them upon their bodies as camouflage. Don't try this trick yourself; placing office stationery on your head to hide from your boss doesn't work!
East of the pin, a narrow chimney is accessible from a crack in the wall at around 80 feet depth. This chimney makes for an exciting way to shallow up from the dive and gives divers a real sense of change as they transition from the deep blue wall below to the dazzling reef shelf above.
4: Northern Lights
Drive time: 40 minutes
Type: Wall
Depth: 50' – 100'
This site is named after the condo development directly onshore and also because it is found on the island's northern shore. Ignore any yarns spun by the crew about seeing the Aurora Borealis – we are too far south for that down here in Cayman!
A gently sloping bottom leads from the pin to the drop-off, which starts around 55 – 60 ft. The slope is composed of alternating channels of sand and fingers of coral and sponge-encrusted rock. Divers make their way down this slope at the beginning of the dive and back up again at the end, looking for a free-swimming Green Moray Eel that frequents this area. Careful, though; he's a curious one!
Divers should look far below them while swimming along the drop-off; you can make out the faint outline of a shelf around 200 feet deep. This vertigo-inducing experience gives you a dizzying sense of scale; Grand Cayman may lack above-water terrain, but it certainly makes up for it underwater!
Take advantage of the narrow channels and overhangs along the wall with abundant sponge growth. The long and stringy Rope Sponges are particularly distinctive, growing together in such numbers as to appear as a tangled mess of shapes and colors. Some glow neon green which is incredibly alien! Northern Lights is a site where a dive light comes in handy. Due to light absorption by the water, we lose color the deeper we go. Replacing this lost light is the key to appreciating the vividness of the sponges and algae.
5: Top Secret
Drive time: 35 minutes
Type: Reef
Depth: 35' – 65'
Top Secret was named as it did not have a mooring and was only known by a few boat captains. However, your captain may claim it's named for the large mansions on the shoreline that could easily pass for the top-secret lairs of evil James Bond villains!
The first thing divers notice on descending is the huge Pillar Coral. Over 10 feet high and with many individual spires, this rare and delicate species is a sight to behold. Enjoy the experience as there are only a few examples of this beautiful and endangered coral around the entire Cayman Islands.
Around the primary structure, you will notice smaller pillars. These little colonies were created when the main colony spawned, and the free-floating polyps landed in a new area and started a new colony. It will take a long time for these little babies to reach the size of the main colony, Pillar Corals are very slow growing!
Swim out a little deeper amongst the sandy channels and reef fingers to find one of our rarest critters – the serpentine Sharptail Snake Eel. Contrary to their name and appearance, these are not snakes, but fish - like other eel species. With their spotty skin and goofy faces, you'll be popular on the boat if you find one of these rare critters.
6: Omega Reef
Drive time: 30 minutes
Type: Reef
Depth: 25' – 60'
Before dive boat captains on East End had the luxury of GPS and mooring balls, they would line up the boat with a palm tree on shore that had grown crooked and looked like the omega symbol to know they were in the right place.
Omega Reef starts strong right under the boat with a miniwall crammed with life. Its sheltered location allows coral and sponges to proliferate, even in the shallows. Less protected areas usually only have bare rock and hardpan where only the hardiest little sea fans typically survive the passing storms. At Omega Reef, however, the coral has far fewer problems. At just 25 feet in places, there is no loss of color from light absorption in the water, so the reef is a kaleidoscope of color!
If you can resist the temptation to spend your entire dive below the boat, Omega Reef offers a special two-for-one deal; head due north for just a few minutes, and you will arrive at the main wall at just 60 feet on top. Although this is not considered a 'true' wall dive, a leisurely cruise to the wall and back is a great way to explore the site. Look for the occasional Cero speeding its way through the water. Sometimes known as Kingfish, we wonder where these silvery streamlined guys are headed in such a hurry!
7: Little Bluff
Drive time: 30 minutes
Type: Reef
Depth: 20' – 60'
It was named after 'Bluff Bay' on the shoreline and surrounding area. Little Bluff is the Caribbean diving you dreamed of from TV and movies, books and magazines, and jaw-dropping nature documentaries.
While there is no doubt that we love the thrill of adventure offered by some of our other dives, sometimes you need to simply drop down 20 – 40 feet onto rolling meadows of coral teeming with life! Little Bluff rarely suffers from currents or surge - it's so easy! Feel the calm wash over you as you move effortlessly through the still water seeing the stunning aquatic scenery.
For those who want more adventure, head north and follow the long fingers of coral toward the deeper sections of the site. Little Bluff is an easy site to navigate, these low spines of rock offer divers a natural compass. They almost always run north/south, formed over millennia by the waves' erosion. As a result, they sit perpendicular to the shoreline. Divers can follow one north for a while, hop to the next one and follow it back, easy!
For you fish collectors out there, keep a beady eye out for all the different types of Hamlet that can easily be found here. Hamlets are small fish that swim close to the reef. They are unique because many color variations exist, yet they are all the same shape and size. They all share the characteristic blue 'lightning bolts' around the eyes, but everything else varies significantly. The most familiar are Barred Hamlets, the pale stripy ones you see on most dives. Rarer, however, are the Batman-looking Masked Hamlets and the strikingly blue/purple Indigo Hamlets. The real holy grail is to find the 'rarer than rare' Golden Hamlet. This specimen features on the front cover of the fish ID book for a reason – they are just so beautiful.
We are not 'bluffing' when we say that Little Bluff is an absolute favorite!
8. Anchor Point
Drive time: 30 minutes
Type: Wall
Depth: 55' – 100'
Anchor Point is in front of Barefoot Beach, a rare low-lying beach on the northeastern coastline that is mainly comprised of steep and sharp cliffs. As a result, this area was ideal for anchoring ships and tendering ashore in the days of old during the early settlement of the Cayman Islands. It was marked on old maritime charts as 'Anchor Point' - a notation given to partially sheltered coves.
Anchor Point begins with a relatively easy yet thrilling swim-through that leads straight onto the wall. The roof of the swim-through is a gradually narrowing cone with a crack at the top, allowing constant light inside, so no problem if you don't like dark spaces. Look up for the Sea Plumes as you head through it – they remind us of snow-covered fir trees! Also, don't miss the brightly colored sponges at the exit of the swim-through, one of which is a vivid orange color even before you shine your light on it!
Divers can head west for a series of closely spaced headlands and valleys with small ledges covered in small fish life. Blue and Brown Chromis love these little ledges, over which they hang near the deep blue drop-off.
Remember that the Cayman Islands were originally known as 'Las Tortugas,' and the north wall is one of the best places to spot turtles. Look for the Hawkbill's larger and its rarer cousin – the Green Turtle. As the latter's name suggests, it is noticeably greener than the muted brown of the Hawksbills. Also, their shell plates sit flush against each other, and the turtles' faces are rounder without any overlapping of the beak.
9. Old Number 12
Drive time: 30 minutes
Type: Wall
Depth: 55' – 100'
Old Number 12 was named after an old scuba tank found on the reef. The tank was numbered #12 and had been missing for some years and must have fallen off a dive boat in rough weather.
The western edge of this site is a classic vertical wall beginning around 55 feet and is the natural starting point. Head east along the wall for a remarkable ascent up a long slope adorned with waving fields of sea fans and other soft corals. Stay just a couple of feet above the fans' tips for a hypnotizing feeling of watching the fans move together in unison as if the bottom has come alive.
Typically, the gradual ascent up the slope will leave you some bottom time once you hit the top, so make sure to spend a little time exploring the edge where sand meets the reef. The little lip created where the abrasive sand has eroded the rock is ideal for spotting creatures. Look for the unusual Soapfish lying motionless on their sides on the bottom, keeping one beady eye on you. Soapfish got their funny name from fishermen who noted that when caught, they release a bubbly slime that resembles soapy suds!
10. Kathleen's Reef
Drive time: 25 minutes
Type: Reef
Depth: 30' – 60'
Sitting just in front of Barefoot Beach, Kathleen's Reef is named for the wreck of the Geneva Kathleen, a three-masted schooner that met her watery end in 1930 en route from Gulfport to Curacao. Her wooden remains have long since rotted away. Still, snorkelers entering the ocean from Barefoot Beach can swim a short distance east to see various parts of her equipment sitting in just a few feet of water. However, the area is too shallow for diving, unfortunately.
The namesake dive site is a little further out from shore beyond the barrier reef. Kathleen's Reef can sometimes suffer poor visibility due to the outflow from the nearby lagoon, but catch it on a good day, and you will be rewarded. Divers can expect extensive and varied sponges, huge feather plumes, and the beautiful spur and groove reef formations typical of the north side.
Make sure to look inside the roomy barrel sponges for lobsters! If you approach gently, these surprisingly inquisitive little guys will often edge slowly from their hiding places to investigate you, waving their antennae as they do so. The Yellow Tube Sponges often have little schools of juvenile Bluehead Wrasse teeming around them. These youngsters are yellow (not blue like the adults) and will swarm toward any disturbances in the sand to pick out the tasty treats it holds.
Just a little east of the mooring pin, there is a large overhang for divers to pass underneath. Spotted Drums are a regular sighting here. If you accidentally spook one and it disappears into a hole, don't worry! Hang tight nice and still, and it will come back out again.
11. Delwin's Delight
Drive time: 25 minutes
Type: Reef
Depth: 30' – 60'
Delwin is a Cayman Islands legend! Not only the site but the man who named it – Delwin! A long-since retired Ocean Frontiers Divemaster and Boat Captain, Delwin was instrumental in setting up and installing the mooring balls in the Cayman Islands. As a result of his efforts and hard work, he was given an opportunity to name a site, and he named this one after himself.
Just like the man, Delwin's Delight is true Caymanian! It boasts rolling fields of coral in the form of the iconic 'Spur and Groove' formations for which the island is so well known, they are covered in large sponges, sea plumes, hard corals, fans, fish, macro life, and more. Delwin's Delight is an underwater garden showcasing Cayman diving at its best.
Look for the coral head just in front of the pin, a favorite local hangout for all sorts of fish. Angel Fish are a beautiful sighting all over these reefs and can often be found in pairs, usually near sponges that a feeding turtle has recently broken open. The Angel Fish use this fresh opening to get to the delicious sponge's insides! Note the French Angel Fish with their dark scales and yellow highlights compared to the more muted colors of the Gray Angel Fish. Of course, Queen Angelfish always get pulses racing with their resplendent colors and patterns!
12. Split Rock
Drive time: 25 minutes
Type: Wall
Depth: 55' – 100'
Named for a narrow canyon that divides the reef, Split Rock is great wall dive. Divers can begin by dropping down through the split that appears as if gouged through the rock. Heading east after passing through brings them to a ledge profuse with black coral. On a morning dive, the rising sun shines through these dark forests of coral, creating soporific silhouettes. Afternoon dives are ideal for photography as the western sun shows all the small details of these fascinating corals.
West of the pin, the site has several headlands that jut away from the wall. The western faces of each of these points also have prolific black coral formations. It is not unusual to feel a little current as you round each headland, and it is fascinating to watch the corals' polyps twitching as they catch plankton in the moving water that passes through the branches of the coral. The deep sponges, including Brain Sponges and Tubulate Sponges, often have resident Brittle Stars – hairy-legged and freaky looking; these crazy critters can reproduce by splitting themselves in half and regrowing their arms!
Like any site, divers find that Split Rock needs several dives to get a feel for it. Numerous swim-throughs and tunnels bisect the reef wall, choosing a different one each time will show you something new.
13. Fish Tank
Drive time: 25 minutes
Type: Reef
Depth: 30' – 60'
The dive site's name may be simple, but it's wholly appropriate. The edge of the miniwall attracts a multitude of fish life and is a hive of activity. It's easy to visualize the reef as a city with its inhabitants scurrying about carrying out their respective roles.
A short way east of the pin is a large formation of Pillar Coral. This fantastic hard coral grows in columns vertically from the bottom and is unique among hard corals in that it feeds during daylight hours. A close look reveals its tiny polyps with extended tentacles picking up tasty morsels from the water. Careful though, despite its fuzzy appearance, it is very delicate so resist the temptation to touch it! Pillar Corals grow exceptionally slowly, and this formation is between 8 – 10 feet tall. It does not take a mathematician to realize this is an ancient example of an incredible species.
Large schools of French and Bluestriped Grunts inhabit the little grooves just east of the Pillars and make for beautiful photos as they gently move back and forth with the water. Eagle-eyed (and patient) divers can look in the shallow hardpan areas for little Lettuce Sea Slugs that are between an inch to two inches long. Their frilly backs are reminiscent of lettuce leaves, and they use them to store algal chloroplasts from the algae in their diet. These chloroplasts allow the animal to absorb energy from the sun to photosynthesize. They are sometimes known as Solar-Powered Slugs!
14. Black Rock Reef
Drive time: 25 minutes
Type: Reef
Depth: 25' – 70'
When the captain announces Black Rock Reef, watch the reactions of our regular divers as their faces light up – it's a popular dive site!
Sitting a short distance closer to shore than its sister site Black Rock Drop-Off, this area offers a beautiful combination of sandy channels, rolling coral gardens, shallow hardpan, and freestanding coral heads separated by narrow channels. The area right below the boat is where the most action happens. The low ridges and coral heads attract large schools of fish such as Bermuda Chubb, Yellowtail Snapper, Barracudas, and countless more. Look under the overhanging ledges at the bottom at around 45 – 50 feet for lobsters, crabs, shrimp, and other little critters.
A short swim to the north brings you to the rolling coral gardens. Look for a resident school of color-changing Caribbean Reef Squid. They swim in formation in the water column and will warn you off getting any closer by turning vibrant white and waving their tentacles in a defensive display. Further north still, you will see a vast expanse of sand fading into the deep blue of the wall. There is a giant barrel sponge on the long coral ridge that comes down from the shallows. This sponge is impressive in its size and the way it clings to the rock, looking like it could fall at any time.
15. Black Rock Drop-Off
Drive time: 25 minutes
Type: Wall
Depth: 55' – 100'
Our captains love to spin stories about how this dive site got its name. From tall tales of piracy on the high seas to the ancient cannonballs that were used to sink mutinous crew deep into Davy Jones' locker, there are certainly some colorful variations on the true story, which is sadly a little tamer. The site is named for a large black rock on the shoreline that was used to help find the place in the days before mooring balls.
A steep ridge separates the inky depths from a vast sand patch that resembles a lunar landscape. In the eastern section of the site, the ridge ends abruptly, which allows the sand to flow down the wall in a steadily winding channel. As divers follow this winding channel, they can hug the western edge bringing them to a gorgeous overhang with many sponges and corals hanging from it. Inch your way under this balancing roof of rock and shine your light into the dark recesses to see what you might find. Green Morays love these holes! Don't be alarmed by them showing off rows of razor-sharp teeth; this opening and closing of their mouth is how they draw water into their gills.
The wall at Black Rock Drop-Off is varied and exciting; no straight-lined linear swims here! Divers move up and down the undulating terrain, around headlands, into valleys, behind buttresses, and over platforms.
Look for the Bash Brothers, an affectionate name given to three male Caribbean Reef Sharks by local dive staff. These handsome young men love to strut their stuff for the divers! The best way to get great photographs is to allow the sharks to approach you; chasing them with a camera only spooks them.
16. Valley of the Dolls
Drive time: 20 minutes
Type: Wall
Depth: 65' – 100'
Located on the northeast corner of Grand Cayman and named after the famous book by Jacqueline Susanne because everything is beautiful and dream-like.
Valley of the Dolls is one of the most photogenic dive sites on the East End, with excellent sponge variety and many tall soft corals, especially the 8-foot-tall Feather Plume just north of the mooring pin. The main navigation feature of this site is a canyon that splits the prominent coral buttress. This canyon is a perfect entrance onto the wall; it can be compared to a window into another world, perfectly framing the azure blue of the open ocean. It is like swimming through a portal, creating a wonderful contrast from the physical reef to the ethereal mysteries of the beyond!
As quoted from a diver at the site: "My favorite swim-through is the one at Valley of the Dolls. The reason is the lip that causes divers to swim up as they exit onto the wall. The sensation is acrophobic!"
17. Barrel Sponge Wall
Drive time: 20 minutes
Type: Wall
Depth: 65' – 100'
Barrel Sponge Wall was named for the abundance of Giant Barrel Sponges. Barrel sponges are more predominant on the north-facing sites.
This site stands out with 17 giant barrel sponges over 15 years old. Watch them closely; you can see them filtering the water and venting it out of their natural chimneys. There are videos online of people taking non-toxic dye, squirting it around the base of the sponge, and watching it come out of the vents a few moments later. Also, remember to take your measuring tape on this dive to prove your eyes are not deceiving you.
Lastly, climbing into the sponges is not allowed, no matter how tempting!
The site has tall, sloped buttresses running down towards the drop along a sloping sand bottom. Divers can make their way up and around these vast features taking in the incredible marine life. The water clarity on this stretch of wall is second to none; it is worth pausing your dive from time to time and simply hovering midwater and taking in the scene around you. Watching other divers floating in the far distance against a backdrop of terrain fading into the blue is mesmerizing and gives a humbling sense of scale.
18. Roger's Reef
Drive time: 20 minutes
Type: Reef
Depth: 35' – 70'
Named after where 'Roger' wrecked his small craft on the shoreline, this point became known locally as 'Roger's Wreck' - this site is the reef directly off from this point. This site sits right where the northern stretch of the coastline rounds the corner and starts to head south. This prominent point is in a dynamic area, and we dive here less often than other sites due to often more challenging conditions.
The edge of the miniwall is a circus of marine life; you can imagine the scene playing out like the scene under a big top. A beguiling array of colors and shapes in a frantically moving waltz competing for attention. It captivates and charms the crowd; it's only missing the cheesy music! Divers can have a great time making their way back and forth along this coral-covered slope. The flat ledge at the top is where Sailfin Blennies make their burrows. Look for the males rising out of their holes and doing a special dance!
Head down a little deeper to the 'spur and groove' sand/reef channels that begin at the bottom of the slope for potential sightings of turtles, rays, sharks, and larger fish species. If you see an old conch shell on the bottom, see if there is a corkscrew anemone inside. They are often accompanied by Pederson Cleaner Shrimp – identifiable by their purple and white antennae. If they frantically wave their antennae, it means they are offering to clean – perhaps you have time for a manicure?
19. Turtle Pass
Drive time: 20 minutes
Type: Wall
Depth: 65' – 100'
After turning west out from Collier's channel, Turtle Pass is the first site we come to. It is an excellent spot for Loggerhead turtles – hence the name. Located in a challenging area right on the northeastern corner of Grand Cayman, it is not quite far enough behind the island's lee to protect it from the worst conditions. Nonetheless, we love to dive Turtle Pass when we have good weather.
The reef structure sits at 60+ feet and drops into fine white sand at 70+ feet. Head into a low-ceilinged swim-through right below the boat for an exhilarating experience; this is not one for the timid! However, the entranceway makes it seem more intimidating than it is - once inside, you have plenty of room.
After exiting the tunnel into the open expanse of the open ocean, watch into the blue for Loggerhead turtles, especially during the spring mating season. During these times, it's not unusual for these leviathans to approach divers to inspect them as a potential mate – they either have bad eyesight or are not too picky! Our guests with cameras have captured unbeatable pictures and videos during these amorous encounters
20. Chubb Hole
Drive time: 20 minutes
Type: Reef
Depth: 20' – 60'
This area is a fisherman's nightmare as they only ever catch Bermuda Chubb - not a tasty fish to eat! Thus, this site is avoided in favor of other areas. However, their nightmare is our dream!
To the southeast of the pin, the miniwall is a mishmash of tunnels, canyons, and archways. Abundant schools of the namesake Bermuda Chubb are everywhere but remember to look in the narrow canyons for Tarpon. With shiny scales and grumpy faces, these benevolent fish are easy to photograph as they are in no way bothered by the divers' presence. Within the gloomy recesses of the reef, you should look for rarer critters, such as the slipper lobster, a creepy-looking throwback to prehistoric times!
To the north, the reef is less restricted, with large open-sided overhangs and tall fingers of coral standing on the seabed. In the right season, vast numbers of tiny juvenile fish swim just inches from the bottom and on every coral head.
Look out into the blue from time to time; Colliers Bay has an excellent record for sightings of giant Loggerhead turtles; there is nothing quite like seeing these dinosaurs cruising about the reef!
21. Cinderella's Castle
Drive time: 20 minutes
Type: Reef
Depth: 25' - 60'
Located just offshore from the Morritt's Resort is this fantasy sunken palace of passageways, pillars, and windows filled with tropical fish. Cinderella's Castle is a shallow open cavern network of ancient rock formations, creating a magical maze of interconnected rooms illuminated by brilliant light shafts that burst through the chimney ceilings. Decorative Lace corals are placed in princess fashion, and Elkhorn corals form a fortress defense upon the top of the Cayman reef.
Look below the Elkhorns for a chance to spot the stunning juvenile Yellowtail Damsel Fish. As youngsters, they lack the characteristic yellow tail, but their body is covered in tiny incandescent blue spots that look like they glow from an inner light. We sometimes tell the kids that at the end of every day, someone has to go collect all the Yellowtail Damsels to put them on charge overnight!
Cinderella's Castle is another 'Must see!'
22. Snapper Hole
Drive time: 20 minutes
Type: Reef
Depth: 25' – 60'
Snapper Hole is a bastion of East End dive sites. A favorite of staff and customers alike, the boat crew can often be seen fighting over who must stay onboard and watch bubbles while the others have fun! It is a labyrinth of swim-throughs, tunnels, caverns, crevasses, and arches.
There is an impressive cavern right under the boat, world-famous after being featured in a BBC nature documentary! For a brief window of time in the summer, vast schools of Dwarf Herring (also known as Silversides) fill Cayman's underwater caverns and other shadowy places. The BBC spent two weeks with us at Snapper Hole in 2014, filming larger fish such as Tarpon and Jacks predating upon these shimmering shoals of baitfish.
Out from the cavern's exit, a sizeable Spanish-style anchor from 1872 can be found resting against a free-standing coral head. The area around the anchor is always thronging with fish, particularly Bluestriped Grunts and Schoolmaster Snappers. Have your photo taken with your face looking through the anchor's huge shackle for a unique souvenir!
Porkfish live under the countless ledges and overhangs of the site, and a Green Moray can often be seen swimming through the canyons. Unafraid of divers, the Moray can raise a few pulses when met coming towards divers from the other way in a confined space!
Lastly, as you head back to the boat, visit 'Papa Smurf's House' – a coral head nestled in the surrounding reef that looks like a giant mushroom!
23. Dragon's Lair
Drive time: 20 minutes
Type: Reef
Depth: 20' – 60'
Dragon's Lair is named for a section of coral that protrudes from the reef and resembles a fierce dragon's head with its mouth open, ready to breathe fire. The dragon usually divides the divers into groups: those who saw it and loved it versus those who lack imagination!
The site includes a ridge with a drop on both sides, packed with tunnels, nooks, alcoves, and recesses to explore. We like to think of the dive as working your way through the dragon's body, zigzagging through the diverse topography before finally reaching the head, taking the obligatory photo, and turning to swim down its back towards the boat. Although we encourage divers to explore at their own pace in buddy teams, this is a site where opting to follow a dive guide is a good idea to ensure you see everything.
Depending on wind direction, the boat usually sits over a section of reef no more than 20 feet deep. We call this an active safety stop! It is so much fun to feel like you are still on the dive while completing your stop; it beats just hanging out on a drop line!
24. Lost Wall of East End
Named lost because many Divemasters would claim there was no wall on the most Eastern face of the wall around Grand Cayman. Ocean Frontiers was the first to discover this area and helped with the mooring installation.
25. Old Wreck Head
Located ½ mile north of the 1962 'Ridgefield' wreck, just past the East Channel. An East End Classic reef dive; Caverns, Canyons, Swim-throughs, windows, overhangs… You name it! And if that's not enough, it's packed full of every type of fish life. But this site is very exposed to the currents and wind, therefore is only safe to dive occasionally.
26. Sunset Reef
Drive time: 5 minutes
Type: Reef
Depth: 15' – 22'
Named so because it is a popular spot with locals to watch the sunset. The sun doesn't set in the east, so the only way to see the sunset is to take a boat far enough to the south. You can see the sun sink into the water to the west during the winter months.
This eastern reef is the perfect shallow dive site for new divers completing open-water check-out dives or discovering scuba diving for the first time. Nevertheless, do not make the mistake of thinking this is a kindergarten site! Some of our most memorable and unique critter sightings have been at Sunset Reef. Our most discerning critter divers love to come here on our Friday afternoon 'Macro Mania' dive and spend a silly amount of time underwater looking for tiny macro life. When one of the world's foremost underwater photographers, Dr. Alex Mustard, brings his workshops to Cayman, he spends at least a dive or two at Sunset Reef.
The site has a flat sandy bottom at no more than 22 ft, plenty of coral heads to explore, and cram-full of critters. Right below the boat is an gnarly anchor dating from 1794 during the wreck of the ten sails event. Discovered on the outer reefs in 1980 by Indiana University, the anchor was brought to this location to allow generations of divers to experience a real piece of history.
Make sure you add Sunset Reef to your to-do list!
27. Gigglin' Marlin Legacy
Drive time: 10 minutes
Type: Reef
Depth: 20' – 45'
Old-school East End divers may know this site as Parrot Fish Caves, but it underwent a name change when a Houston-based dive shop sponsored the new mooring ball. The site now carries the dive shop name in its honor.
Gigglin' Marlin is the only site on East End that looks like this! The distinguishing feature is a large cavern that is extremely wide yet low, creating a letterbox effect. For the authentic, immersive experience, approach it from a hole in the top of the ridge, which leads under a distinctive arch that pops you out at the entrance of the letter box. As you slowly pass through the letterbox, focus on the dark recesses in the edges for all manner of fascinating marine life.
True to its earlier name, this site is a great place to look for Parrotfish. The larger examples include the Midnight Parrotfish and the Rainbow Parrotfish. You can often hear them before you see them; listen out for a grinding, crunching sound as they bite through rock with their powerful beaks to get at the tasty morsels inside. Afternoon dives offer the opportunity to see large schools of smaller species of Parrotfish spawning. Look for two individuals breaking from the school and shooting upwards, meeting at the top, and then diving back down again. Very cool to watch!
28. Grouper Grotto
Drive time: 5 minutes
Type: Reef
Depth: 20' – 60'
On the windswept southeast corner of Grand Cayman, Grouper Grotto is another perfect example of the intricate nature of East End's exposed shallow dives. The site falls within a protected Grouper spawning zone. Look for smaller examples, such as Coneys and Graysbies, as well as larger ones, like Nassau Groupers, Black Groupers, and Tiger Groupers. If luck is shining on you, extremely shy Goliath Groupers can be seen here too. These monsters scare easily, but their vast size mean they are not the only ones who experience a sudden fright when encountered face to face in a narrow space!
A network of steep and narrow rocky passages with low-ceiled tunnels between them forms the site. The canyons have tons of life within their recesses. The deeper areas to the south offer wide fields of soft corals, sponges, and the chance of larger critters such as sharks, turtles, and Eagle Rays.
Like the sites in the Collier's area and Half Moon Bay, Grouper Grotto comes alive in the summertime when large schools of baitfish known as Silversides or 'Fry' congregate in these canyons. There is nothing like watching these silvery curtains parting as you pass through them before closing behind you again. If you are fortunate, you might witness a predatory fish such as a Jack or Tarpon snap at the school, which reacts by creating a void within itself before magically closing again. Spectacular!
Ask your guide to show you the rabbit hole, a tight yet fun swim-through. So named because its entrance looks like a rabbit hole, and guests claim the Divemaster's fins look like rabbit ears as they disappear headfirst inside!
29. Old Isaac's
Drive time: 5 minutes
Type: Reef
Depth: 25' – 65'
Named after the original 1662 settlement within the East End District, published on the 1773 map by George Gauld, known as Old Isaac's, located onshore in the general area of Compass Point Dive Resort.
Old Isaacs has a pronounced ledge starting from 25 feet and dropping dramatically to 50 feet. The bottom is strewn with rubble and other natural debris, a favorite habitat for many reef critters. We love the Yellow-Headed Jawfish hovering just inches above their holes. If you approach low and slow, they will remain outside their dwellings, and you can watch them feeding on suspended particles or doing some housekeeping – removing mouthfuls of sand from their little homes.
A little deeper still, some 60 feet deep, there is a line of east/west running coral heads. Divers can zigzag their way between them to appreciate the impressive hard and soft coral formations covering these boulders. The sandy areas are full of Pike Blennies – these tiny fish live in burrows, and they stick their pointy noses out making them easier to find. The males can be territorial and will warn you by opening their mouths wide and erecting their pronounced dorsal fin showing a black spot.
You will find one of our coral out planting sites at the eastern edge of the dive site. You cannot miss the 30 feet tall PVC 'trees' full of attached baby corals that started their lives in our protected coral nursery inside the lagoon. These are now big enough to live in the real world! There is always a variety of larger fish who have made these trees their hangout – they love to come to inspect our work when we are cleaning and doing other maintenance!
30. SCUBA Bowl
Drive time: 5 minutes
Type: Wall
Depth: 70' – 100'
Named after the significant scuba diving promotional event in 1990, held just after the big DEMA scuba diving trade show and right around the Superbowl in January. The site consists of a winding wall face with two large pinnacles and a massive mushroom formation resembling a church spire. This area makes a great drift dive! Marvel at the ravines, ledges, channels, and buttresses as you drift effortlessly along.
Along the wall's edge, divers can find Cubera Snappers. These gigantic fish have a shyness that is not in keeping with their vast size. Despite being up to three feet in length and looking intimidating, they move away from divers quickly at the merest hint of an approach, so try to act casual!
The most exposed of The Corner dive sites, not to mention a little deeper, SCUBA Bowl can be challenging to check off the list, but it is gratifying once you do so! You won't soon forget the bounteous coral and sponges that thrive off the vast quantities of nutrients from the upwellings and currents as well as the immense schools of fish that call this healthy and dynamic wall home.
31. Pat's Wall
Drive time: 5 minutes
Type: Wall
Depth: 60' – 100'
Named after Patricia Schaar, the old Cayman Diving Lodge manager in the '80s. Situated next to Jack McKenny's Canyons, Pat's Wall often is overshadowed by its famous neighbor. However, it stands on its own as a genuinely epic East End dive that our staff and customers alike love.
Just east of the mooring pin, the reef is cut by a canyon that leads to the drop-off. Savvy and adventurous divers should look to their left as they drop down to be confronted by a narrow yet superb swim-through that runs parallel to the wall and continues for a good few minutes. After a right-hand turn to exit the swim-through, double back on yourself and head back west as you shallow up. An enormous, pronounced buttress is a haven for immense schools of fish. Pat's Wall is one of the 'fishiest' sites we have.
Not just limited the large buttress, these shimmering schools of fish also inhabit the multitude of canyons, ridges, ledges, and overhangs that make up this site. These hypnotizing schools can easily hold your undivided attention for the entire dive. But, keep your eyes on a swivel out into the blue off the wall. Some of our best Hammerhead sightings occur in this area. When we see one, the first clue that it is something special is the enormous dorsal fin compared with the smaller Caribbean Reef Sharks as well as the distinctive way they swim, gracefully 'S-turning' as they glide through the water. The final and conclusive clue is the namesake 'hammer' shape of their heads - snap a photo to savor the moment for years to come!
32. Jack Mckenny's Canyons
Drive time: 5 minutes
Type: Wall
Depth: 55' – 100'
Named for a well-known and successful filmmaker, underwater stuntman, and former editor of Skin Diver magazine; Jack McKenny claimed this as his favorite dive site on a visit to Cayman. Jack's, as it is lovingly known for short, is a hot logbook entry all divers to East End should complete.
A large sandy area under the boat is the natural starting point. Its shape and rocky sloping sides give the impression of being in a stadium, and we have quite the show for you! Jack's, and the other corner sites too, are known for Caribbean Reef Sharks. Despite their uninspiring name, these hunters are the real deal! Ask a kid to draw a shark and the picture would look like a Caribbean Reef Shark; All sharp teeth, streamlined bodies, pointed noses, and sleek fins. Nature's true predator!
An underwater buoy 20 feet below the surface has a transceiver connected to it to record data from the tagged sharks for the government's conservation program. Ask the dive staff and they will happily tell you about each individual shark and how to identify them. They all have unique personalities; you get to know their quirks when you spend as much time with them as we do!
If you can drag your eyes (and cameras) away from the sharks long enough, the site has plenty else on offer. Head down a canyon at the western edge of the sandy patch to reach the wall in style! The tunnel forks twice, so check with your Divemaster to avoid going wrong! Two chimneys plunge through the canyon floor, showing tantalizing hints of the mysteries below. Don't be surprised if you feel the inexplicable pull of the deep!
33. The Maze
Drive time: 5 minutes
Type: Wall
Depth: 40' – 100'
Could any site be more perfect? Just 40' – 45' deep on top of the wall, with incredible topography, sharks, abundant coral, and teeming fish life. All just a five-minute drive from the dock! You never need to swim far from the boat; figure-eight your way through the myriad canyons, buttresses, and pinnacles. It's easy to see why this site is named 'The Maze.' Several canyons have sheer straight-sided walls and are open at the top and bottom despite being just wider than shoulder width. Have your buddy take a photo of you swimming through for a unique memento!
You may think you have become lost from all the zigzagging, but as you ascend the wall, you will find yourself right under the boat! However, that does not mean the end of the dive, as the shallow section is perfect for eking out extra bottom time. Divers love to explore the brilliantly bright sand bowl right by the pin with its stunning rock formations covered in resplendent coral. We cannot be clearer - anywhere you swim on this site offers something incredible. It's fortunate that the site is so shallow because you need all that bottom time to go crazy and explore every nook and cranny! Look for Scorpion Fish camouflaged against the reef, don't touch them, though – they are venomous!
You will find yourself wanting to come back to The Maze time and time again!
34. Lighthouse Wall
Drive time: 5 minutes
Type: Wall
Depth: 50' – 100'
Named after the East End lighthouse found directly onshore from this dive site, at one of the highest points on the whole island. If you decide to enjoy a pleasant walk to the lighthouse a few minutes west of the dive resort, take bottled oxygen and a Sherpa, as it's over 50 feet high!
Lighthouse Wall is formed of jagged rocky points that jut out into the blue with flowing sandy channels between them plunging into the abyss, it is an impressive dive. These razor-narrow protrusions of rock are a haven for marine life. In deep water, Star Corals, which typically blanket the substrate in the shallows to form boulders, instead form plates that spread out horizontally from the wall. These plates are suspended against the will of gravity, and divers can look around them for fish such as the Longsnout Butterflyfish. Solitary or in pairs, they hang out near these narrow ledges looking for invertebrates to eat.
During the deep wall section of the dive, divers can find an old sunken rope encrusted in algae and sponge growth. You can still see it gently swaying back and forth as it pendulums above the void.
35. Playing Fields
Drive time: 5 minutes
Type: Reef
Depth: 25' – 65'
Despite its unassuming location, Playing Fields packs a big punch. It is found right offshore from the public playing fields in the village of East End right next to one of the most popular bars in East End. Sometimes you can even hear the music while moored at the dive site!
Three freestanding coral heads are the most apparent feature of Playing Fields. Located right under the boat in a row heading south, divers can do an extended figure-eight circuit to see each of them. The nearest ones are just a few feet from one another, creating a fun channel to swim through. The rubble-strewn bottom is an ideal habitat for Yellow Stingrays, sometimes colloquially named 'Lemon Rays.' Able to adjust their coloration to match their environment; they can be tough to spot. Look for a round indentation in the sand and the giveaway eyes and tail poking out!
Playing Fields is known for its Star Coral formations, making it a popular dive site during the coral spawning nights when these corals procreate spectacularly. An event not to be missed; spaces sell out quickly, so get your name down now! Between the second and third coral heads, on the adjacent rock wall, is a fantastic formation of Mountainous Star Coral that has grown in the shape of a large thimble several feet high.
The site is also an out-planting site where our resident coral experts relocate our nursery corals into the big bad ocean having spent months growing in the relative safety of East End lagoon. Look for Staghorn Coral formations attached to frames or lines or affixed to the reef structure particularly on top of the freestanding coral heads and on the surrounding reef.
For a fishy safety stop, the reef top just north of the pin towards shore always yields profuse schools of various fish, notably Bermuda Chubb, Bar Jacks, Horse-eyed Jacks, and Creole Wrasse. Sometimes divers' three-minute stops become ten as they hover midwater in a trance, watching the circling fish!
36. Lodge Anchor
Drive time: 10 minutes
Type: Reef
Depth: 30' – 60'
Located in front of the site of the old Cayman Islands Dive Lodge, the namesake anchor of this dive site dates to 1794 during the wreck of the ten sails. It rests upright against the reef a short swim east of the mooring pin. Keep an eye out for the attached chain; it's overgrown and encrusted, so look closely!
The deeper area of the site offers waving gardens of sea fans and sea plumes, healthy sponges, and large colonies of hard corals. Meanwhile, directly below the boat is made up of low and narrow grooves that are fun to explore on the way to the anchor or after returning.
The sandy areas are home to well-camouflaged Peacock Flounders. As they rest against the bottom, these color-changing fish blend perfectly with the sand. Spook one, however, and they will dart away, flashing a vibrant white color with blue rings – hence the peacock name!
37. The Arch
Drive time: 10 minutes
Type: Reef
Depth: 30' – 60'
A gravity-defying arch is the namesake feature of this site, just a 10 minute boat ride from the dock. The wide arch makes for a fantastic photo; you should pass through it several times to catch all the details.
Pay close attention to the underside of the arch, where you will find Red Encrusting Algae and extremely delicate Purple Lace Coral. The cracks and crevices provide a perfect home for juvenile fish and little critters such as Banded Coral Shrimp. Their claws are on the end of long striped appendages, giving the animal its name. The key to finding these little shrimps is to look for their tell-tale white antennae poking out from within the rocky alcoves.
The Arch also has a series of narrow cuts and channels between the pin and the arch itself. Make sure to weave through these as you make your way back to the boat for a pretty way to end the dive. The hard coral growth on top of the mini wall is excellent; watch for Grooved Brain Corals, which look exactly like their name suggests!
38. Tarpon Terrace
Drive time: 10 minutes
Type: Reef
Depth: 30' – 60'
A unique dive in an unusual location, the site was named for a tall and narrow passage that attracts large numbers of Tarpon. These silvery monsters hover one behind the other as if waiting in line at the movies, hemmed in by the rocky sides. Undisturbed by divers' presence, Tarpon only move if you make a close approach, and even then, it's a slow and apathetic retreat. You can almost imagine them huffing and rolling their eyes as they casually move away from you.
At Tarpon Terrace, it's worth spending much of your time away from the miniwall exploring the giant freestanding coral heads that dot the pristine sandy bottom. Each one is an independent reef in its own right - mini oases in a literal desert of sand. These coral 'islands' are teeming with life - the sponges, hard corals, and soft corals compete for the limited real estate, and schools of tiny but colorful reef fish dance around them. One of the coral heads has a fun swim-through to create even more variety.
Its location is remarkably close to the shoreline with big swell and rocky cliffs, so Tarpon Terrace is only sometimes dive-able. However, get it on a good day, and it's one to remember!
39. Dumbo's Drop-off
Drive time: 10 minutes
Type: Wall
Depth: 55' – 100'
Dumbo is an elephant sculpture placed here by some disgruntled Cayman Islands Dive Lodge employees. To quit in style, they kidnapped (or elephant-napped) the manager's beloved statue and took it diving with them. They videoed themselves chaining and padlocking poor Dumbo to the reef and dropping the key off the wall into the abyss. They sent the video to the manager along with their letters of resignation! The chain has long since rusted away, leaving Dumbo on his perch to survey his domain for eternity.
The pin sits on the bottom of the sloped mini wall - the wall and Dumbo's perch are just a short swim south. Dumbo is overgrown with algae and coral, so keep your eyes peeled when you reach a small ledge at 80 feet – he'll be there!
This dive site also has many other attractions, including multiple elephant-free ledges that create a tremendous horizontal contrast to the steep drop-off. While giving divers a chance to rest, these ledges also provide little refuges for fish life, including Surgeonfish, Butterflyfish, and Damselfish.
40. Three Sisters
Drive time: 10 minutes
Type: Wall
Depth: 60' – 100'
Three Sisters, with its several towering pinnacles and columns, may have you believe you have been transported to Manhattan. But look around, and you will see that the only traffic here is the denizens of the reef going about their business.
The three prominent pinnacles were named for the Conolly sisters of East End. Agatha, Bertha, and Cleo. Regulars of the Morritz Tortuga Club may be familiar with Cleo for her fabulous cooking!
A long and narrow yet accessible and open-topped canyon starts close to the pin and leads directly to the first pinnacle. A dramatic start to the dive as the passage opens to a view of a looming column of rock. Spend a little time admiring the view before heading west and arriving at the second pinnacle in just a few minutes. The third pinnacle sits just a few minutes further and is especially impressive when approached from at least 70 feet deep, as it has a pronounced lean that is most noticeable when viewed from deeper. Cayman's version of the leaning tower of Pisa, just without the touts selling tacky trinkets!
41. Lost Valley
Drive time: 10 minutes
Type: Wall
Depth: 60' – 100'
It was named for the simple fact that it was lost for over ten years. The line-ups and coordinates went missing, and no dive boats visited. The site was rediscovered on a drift dive in the late '90s for us to enjoy. The deeper wall sites in the High Rock region experience current more often than others, but a drift dive here is an unbeatable way to see not only more of the pinnacles but also the sections of wall between the dive sites that far fewer divers have experienced. Don't be alarmed if you are new to drift diving; it's easy! The crew will explain everything, and you will soon discover there was nothing to worry about!
As with all High Rock's wall dives, Lost Valley has pinnacles that are a joy to explore. As divers make their way around them, they will love the schools of fish that inhabit the sides of these rocky towers. Look for schools of Blue Tangs that flow in formation along the reef and dive down simultaneously toward a tasty area of algae to graze on. It amazes us how they all move in sync with each other!
Large Grouper are a common sighting, especially on the edge of the wall. With a slow and gentle approach, you may catch them with their mouths open and gills flared to allow tiny cleaner fish to go to work, a memorable experience for lucky divers. Even fish have their morning routines!
42. Kangaroo Gorge
Drive time: 10 minutes
Type: Wall
Depth: 65' – 110'
Why Kangaroo? Because it was the favorite dive site of an Australian, of course! This divemaster from 'down under' worked for a small dive shop called East End Explorers in the 1980s. Today his legend lives on at Kangaroo Gorge.
Intrepid souls begin this dive by dropping through an incredible swim through - the eponymous gorge. It's a little deeper than most of our regular tunnels, so don't fret if you'd prefer to go over the top instead!
Thanks to the current that passes this way occasionally, you can expect spectacular visibility and abundant marine life; the most common thing we hear from divers about Kangaroo Gorge is how struck they are by the coral coverage. Every square foot of reef seems to overflow with healthy coral and sponges.
Divers using Nitrox will really be able to get their money's worth. Some areas of this site, particularly the sand patches, sit at around 70' depth. It is worth the effort for a good chance of seeing the Spotted Eagle Rays that feed on buried crustaceans in these sandy expanses, look for the telltale clouds of sand that are a dead giveaway that a spotty someone is hunting for their breakfast!
Kangaroo Gorge will have you 'hopping' to come again soon!
43. High Rock Drop Off
Drive time: 15 minutes
Type: Wall
Depth: 45' – 100'
Named for the tall rocky cliffs on the shoreline and the small settlement of High Rock, this is a dive that you will no doubt love. It is protected from the worst of the elements and has depths as little as 45 feet while still boasting sheer plunges into the abyss. This site never fails to please divers of all levels and expectations.
Dropping down over the wall is like being in National Geographic, the reef fish stream around you while the soft corals wave gently with the ebb and flow of the ocean. As you cruise towards a large pinnacle at the site's eastern edge, make sure you poke your head (and dive light) into the innumerable crevices, cracks, nooks, and hidey-holes. Divers revel in the experience as they meander around, over, under, and behind the jagged features of High Rock Drop Off.
Watch out into the blue for Hawksbill turtles, identifiable from their hooked beaks and overlapping shell plates with jagged edges. These are the most common of Cayman's turtles and are so chilled and curious that divers can have some close encounters. A close inspection of their shells reveals gorgeous patterns and colors that were not easily discernible from farther away.
Once back under the boat, divers can take advantage of the shallow depths to maximize dive time. Critters abound on the reef but pay attention to the sandy areas too. Southern Stingrays love drifting inches above the bottom, looking for their next meal. If they find something, watch as they start to flap their wings to displace the sand and reveal the goodies below.
44. River of Sands
Drive time: 15 minutes
Type: Wall
Depth: 50' – 100'
No site looks quite like this one! The flat sandy bottom drops abruptly downwards at a 45-degree angle as it flows through a series of narrow channels in the steep reef wall heading towards the main drop-off, creating cascading rivers of sand – a visually stunning dive!
The top of the wall sits in only 50 feet of water which makes River of Sands accessible to all levels of divers, especially considering that its sheltered location also protects it from the worst of the currents and waves.
Following the 'rivers' down through the rock and onto the wall, look in the sand for Razor Fish. These awesome critters hover just above the bottom, and when spooked, they dart into their burrows in an instant leaving just a puff of sand in their wake. It reminds us of a stage magician disappearing in a puff of smoke!
Swimming along the wall reveals overhangs, ledges, and gaps to swim through. This is not a dive where you feel like a passive observer; you are getting amongst the features of this magnificent wall. If the conditions are right, the divemaster may also shallow up from the wall through one of the many swim-throughs. Feel the chills down your spine as the narrow point of light ahead gets steadily wider until you burst out of the twilight zone onto the sunlit reef!
45. Ironshore Gardens
Drive Time: 20 Minutes
Type: Reef
Depth: 20' - 60'
A heavy hitter of a dive site, Ironshore Gardens is so named because it is found behind an outcropping of hard and rugged rock known locally as Ironshore. Islanders used to wear shoes made of cowhide called 'Wompers' – but even these tough shoes offered little protection from the sharp ironshore.
At first glance, the site is a mess of ridges, canyons, arches, tunnels, and overhangs, but it is more straightforward than first meets the eye. Ironshore Gardens comprises parallel steep-sided north/south running ridges and canyons with swim-throughs connecting them. You can do the whole thing without ever doubling back on yourself.
Ask your captain why one of the tunnels is called The Throat and watch them smile as they decide whether to tell you! Either way, the cavern leading to The Throat is often full of weird-looking Glassy Sweepers. These unusual fish are see-through; you can see what they had for breakfast! Their shiny sides catch the narrow beams of light and create an incredible display as they dart about the confined space.
Dispelling any myth that sites with great topography are devoid of marine life, Ironshore Gardens has vast numbers of fish, rays, crustaceans, and myriad other critters. The tops of the ridges are shallow and make for a picturesque safety stop. You must spend time admiring the large Acropora formations here - the aptly named Staghorn and Elkhorn corals.
46. Maggie's Maze
Drive Time: 20 Minutes
Type: Reef
Depth: 30' - 60'
Maggie was a well-known divemaster back in the '90s at Cayman Islands Dive Lodge. This was her favorite dive site and was named in her honor.
What makes Maggie's Maze unique is the long winding canyon that begins in the shallows and leads towards the deeper sand patch to the south of the pin. As divers make their way through, the canyon walls grow higher as the sandy bottom gets steadily deeper. Nurse sharks love this area and can be found resting under the low overhanging sides of the narrow canyon.
The narrow winding canyon ends with a spectacular swim-through; turn right at the end to find a pretty arch with lots of life under it. The arch is like a window from the dense rock and reef to the open sand and blue beyond. Fairy Basslets are abundant on the undersides of the rocky arch - half yellow, half purple; they orientate themselves parallel to the nearest surface, often resulting in them swimming upside-down underneath the ceilings of archways and ledges.
The area just east of the pin comprises two large arches sitting right next to each other and a third just behind. The arches and canyons crisscross each other, creating a maze. You can be sure that if you don't see a large school of Horse-Eyed Jacks here, they won't be far away! Sometimes confused with Tuna because of their silvery bodies and pointed yellow fins and tails, they are curious of the bubbles, often circling the divers, which is enchanting!
47. Kelly's Caverns
Drive Time: 20 Minutes
Type: Reef
Depth: 25' - 60'
Named in honor of the Cayman Islands Dive Lodge resident dog, who enjoyed coming out on the boat back in the day, Kelly was known for jumping in the water and following the divers' bubbles as they moved around the dive site!
There are three distinct sections of this dive site offering divers a wide variety:
Directly under the boat, you will find the canyons and tunnels for which Half Moon Bay is famous, especially to the east of the pin. The many nooks and crevices are home to the shyest of Cayman's marine life, approach slowly to get the best view.
The rubble field at 45' to 50' along the edge of the mini wall is a macro lover's dream come true. Look for the extremely rare but gorgeous Purple Crowned Sea Goddess, a sea slug to create envy when you show off your photos at the bar after the dives!
Just beyond the rubble field is a vast expanse of crystalline white sand. As well as hunting for sand-dwelling critters such as Pike Blennies and Yellow-Headed Jawfish, look above you for large Barracuda hovering ominously in the water column.
Like Kelly, your tail will wag as you climb the ladder after this dive!
48. Crusher's Wall
Drive Time: 20 Minutes
Type: Wall
Depth: 55' - 100'
Named after a broken-down rock crusher that sat on the shoreline for many years and was used as a line-up by boat captains to help locate the dive site before moorings.
Crusher's Wall has several distinct options to begin your epic wall dive. The first and simplest is to start at the pin and head directly to the drop-off, where two gorgeous freestanding pinnacles can be found. The next option for those feeling bold is to drop down into a large sand patch inside the wall and follow a steep canyon that again leads to the two pinnacles. For the most audacious, just to the left of the canyon entrance is a dark hole, head inside for an intense experience! The exit of this excellent swim-through is also right by the first of the two pinnacles, so any of the three options allow you to remain with your dive group even if you each take different routes.
Divers venturing away from the pinnacles can find plenty of headlands, ledges, and overhangs to explore, as well as an undersea cable running down the wall and into the ocean.
49. Little House on the Prairie
Drive Time: 25 Minutes
Type: Reef
Depth: 25' - 60'
Little House was named for a small house sitting along the shoreline. Before mooring balls, East End captains lined the house up with a utility pole to ensure they were in the right place.
Little House is another Swiss cheese paradise full of holes! After spending some time on the open reef to the south of the site, you will feel like an intrepid explorer as you pick your way through the interconnected tunnels below the boat. Black Bar Soldier Fish can be found within little nooks in the reef. Look carefully at their heads; they often have highly fashionable isopod headgear! Reminiscent of a woodlouse, isopods are segmented little crustaceans that live on the fish's head and eat the scraps from the messy eater!
Little House has amazing formations of hard corals right by the boat, including Lobed Star Coral and Mountainous Star Coral, which makes Little House one of our go-to sites for our spectacular coral spawning night dives each fall. On close inspection of these corals, you will realize how amazing it is that these tiny little polyps can create such immense structures!
50. Big House
Drive Time: 25 Minutes
Type: Reef
Depth: 30' - 70'
Sitting just west of Little House, Big House was named for a large house on the shoreline that the captains used to line up with to ensure they anchored in the correct place before the installation of mooring balls.
Like many of its sister sites in Half Moon Bay, Big House offers an underwater playground of rocky canyons and ridges with tunnels and archways between them. However, the site also provides divers with deeper sandy areas and tall ridges heading into the deep to enjoy. Interestingly, some of these narrow ridges have a build-up of sand on one side but not the other due to prevailing currents.
Hogfish are a common sighting in these sandy areas. Their long snouts are perfect for digging around in the sand where they feed, and they have three unusually long protrusions trailing from behind their head. A Bar Jack often accompanies them. Interestingly, Bar Jacks turn from their usual silver color to black when shadowing another animal.
51. Fantasea Land
Drive Time: 25 Minutes
Type: Reef
Depth: 25' - 60'
Many rumors exist about the name of this site, but the official version is that its name comes from the dreamy topography of swim-throughs, overhangs, and archways. For a more 'colorful' version – ask your captain!
Not only does Fantasea Land boast jaw-dropping topography, but it also has excellent marine life. Immense outcroppings of reef and coral meadows stretch out to the south of the mini wall and a highlight is the large areas of Star Coral. Every fall, these large formations spawn, and Fantasea Land is one of the locations where this can be seen best.
After exploring the magnificent fields of coral to the south and getting wonderfully lost in the intricate swim-throughs, divers can end their dives on top of the miniwall at only 25 feet. Hunting for critters such as gobies and blennies can make that safety stop fly by!
52. Elmo's Wall
Drive Time: 30 Minutes
Type: Wall
Depth: 50' - 110'
Elmo's wall is dive that constantly surprises with its unique topography, calm conditions, and abundant marine life. Named for a divemaster who always carried a stuffed Elmo toy, this site is protected from wind and waves and offers a calm haven on those windier days.
The distinctive topography will immediately strike you upon descending. The wall is formed by a narrow ridge that runs east to west, creating a drop on both sides. Inside, it drops to a sandy bottom at 70 feet, while on the outside, it drops down into the deepest depths.
Start the dive by heading through the swim-through right below the boat. Its straight walls and flat ceiling are reminiscent of a hallway or corridor. Be careful to avoid following the contours of the sandy bottom; you might end up deeper than you wanted!
53. Frank Sound Gardens
Drive Time: 30 Minutes
Type: Wall
Depth: 20' - 40'
Prepare to spend a long time down there – this site is shallow! Sitting right outside the navigation channel of Frank Sound lagoon, most divers struggle to find more than 40 feet of depth here. Don't for a second think that the shallow nature of this dive compromises its quality; this place is teeming with life!
The easy depth and simplicity of Frank Sound Gardens make this a great unguided buddy team dive. You can tell who the most critter-obsessed divers are; they are the ones who barely move away from under the boat, content to poke around at a leisurely pace just below.
Comprising a flat sandy bottom on which sits coral fingers and rocky formations. The sand glitters with dappled sunlight from above, giving the site an airy and open ambiance. The reef is primarily low-lying but with steeper canyons in the shallow areas and plenty of low overhangs to look under in search of marine life. Look for Trunkfish, which are fun to watch as their ungainly shape causes them to wobble about the rocky bottom in search of food. Observe as they blow away the sand with their mouths to reveal the buried meal below.
Swim a little west to give yourself the best chance to see Eagle Rays; they often hang around the navigation channel just west of the mooring. The highlight is if you can catch a number of them swimming in formation, effortlessly gliding through the water.
54. Eeny, Meeny, Miny, Mo
Drive Time: 35 Minutes
Type: Wall
Depth: 50' - 100'
This is a fabulous wall dive, discovered by and named after Mo, one of the owners of Ocean Frontiers.
At first glance, it may seem you are lost – where is the wall? However, rest assured, it is just a short swim away! The pin sits on a shallow shelf, and a leisurely drop down a coral-covered slope leads you to a series of four pinnacles that create a captivating dive. Naturally, the pinnacle nearest the boat is called Mo. Winding your way around these towers is simply exhilarating, and you'll have to drag yourself away when the time runs out.
Look under the ledges for alien-esque and elusive Channel Clinging Crabs. These often disconcertingly large creatures cling precariously to overhangs and precipices, hanging delicately above the colossal drop. Their monstrous appearance hides their shy nature, and they will quickly scuttle away if approached and wedge themselves into the safety of a crack or crevice.
Large schools of Bar Jacks can be found hanging in midwater above the drop-off, their silvery scales shimmering in the sunlight. Don't be surprised if they follow you up to your safety stop; these feisty fellows love to bite the bubbles!
55. Breakers Cutback
Drive Time: 35 Minutes
Type: Wall
Depth: 50' - 100'
Offshore from the iconic lighthouse, this is the farthest of our regular dives on the south. Book our popular three-tank safari trip if you wish to go even further!
Breaker's Cutback captures your attention from the moment you drop below the surface. Descending to at least 80 feet is recommended, even if you typically remain shallower. Doing so will allow you to see that this area's steep wall is overhanging; swimming underneath the drop-off is quite an experience! This shadowy ceiling is a beautiful environment for all manner of sponges. Looking like creatures from another planet and seemingly defying gravity, these alien-like forms of all shapes, sizes, and colors hang from the rocky crevices on all sides, including above your head! Bringing a dive light will allow you to appreciate the true colors.
A short swim west of the pin brings you to the namesake cutback. The wall cuts in towards shore abruptly at a right angle creating a mind-bending optical illusion as if someone has 'deleted' the wall. This sharp vertical line where the reef meets the endless blue will enchant you and makes for incredible photos. Heading around the cutback, remember to look up to see the numerous schools of fish silhouetted against the rays of sunlight above. The Creole Wrasse are especially spectacular as they flow around the reef in formation. Looking down is also a great idea, with a strong chance of seeing the elusive Black Jacks. Swimming individually or in small groups, these curious fish will often make close passes of divers allowing for easy observation.
You will agree that Breaker's Cutback is worth the boat ride.