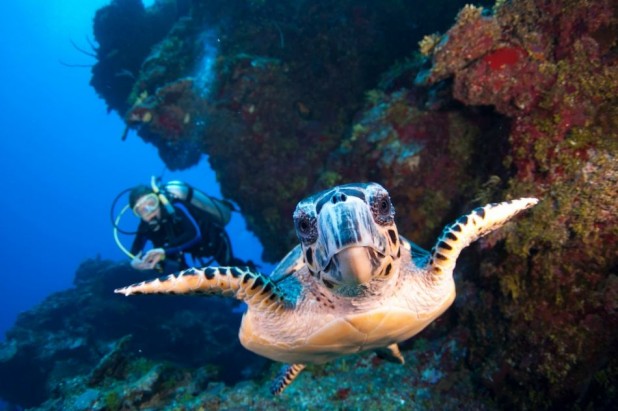 Our Classic Two-Tank Boat Dive is a half day trip of approximately 3.5 to 4 hours in duration, subject to the distance to the 2 different dive sites you will visit. The two-tank boat dive is our most ...
The Classic Cayman Two-Tank Boat Dive is offered by Ocean Frontiers dive shop every morning and every afternoon (Saturday PM Seasonal). This 1/2 day scuba diving trip includes 2x single tank dives at two separate and different dive sites on the East End of Grand Cayman, with a surface interval between the dives. Our pristine reefs and dramatic wall dives provide the ultimate adventure for the diver wishing to get away from it all.
Ocean Frontiers is a full service dive operation and operates 'Concierge-Style' diving, which means all you have to do is breathe. We'll set up your dive gear and change your tanks between dives and offer guided dives at every site, making your experience as effortless and relaxing as it is enjoyable.
The East End of Grand Cayman is well known for offering the best coral reefs and walls on the island. East End is off the beaten path and considered the 'Caribbean Side' of Grand Cayman. If you want to get away from the crowds and experience exceptional diving sites and services, then Ocean Frontiers is your Cayman dive shop.
We strongly recommend booking these trips in advance as they frequently sell out.
Highlights:
Dive two different and remote East End dive sites
Two-Tank dive is a Wall or Reef dive for the 1st dive site followed by a Reef or Open Cavern dive for the 2nd
Boat dive excursion with a maximum of 15 divers + 3 crew
A Divemaster Guide in the water on all/both dives
Unguided Buddy Team and Computer Diving Permitted.
1/2 Day Trip
Ocean Frontiers dives the East End District of Grand Cayman: North East, East and South East, a total of 55 dive sites. The selection and variety of dive sites we visit are so diverse that it can take divers many years to witness all we have to offer. The 2-Tank dive trips run every day, 365 days per year, and visit different sites every day on your visit to the Cayman Islands.
Trip Details:
Scheduled every morning and every afternoon, Sun-Fri.
AM 2 Tank on Saturday mornings. Saturday PM dives, seasonal.
AM two-tank check-in 7:45 AM / PM two-tank check-in 1:00pm
Typically a Deep Dive on the Wall, followed by a shallow reef dive
Departs East End | Ocean Frontiers Dive Shop Dock at Compass Point
Certified Divers Only
Nitrox Available (addl fee)
---
What's included:
Boat excursion & crew, air tanks, belts, lead weights, towels and drinking water + Free Dive Site Map Slate
Not included:
Other rental gear: BCD, Fins, Mask, Wetsuit, Regulator, Instruments, Dive Computer, Nitrox tanks, Camera
Transportation to and from your hotel to the departure point in East End is not included. You will need a rental car or taxi if you are not staying in the East End district.
Gratuities Not Included.
Additional Information:
Open Water Certification or higher is required to participate in this activity. If you are certified and have not dived in the last 24 months you will be required to take a Refresher Course or Orientation Dive prior to this trip for an additional fee.