Dive Site Name: Omega Reef
Key Information:
Location: 30 minutes drive from the dock
Dive Site Background: Named after a palm tree onshore that resembles the omega symbol, which was used by boat captains before GPS and mooring balls.
Dive Site Details: Depths range from 25-60 feet. Highlights include the miniwall crammed with life, colorful corals, and the occasional Cero.
Fun Fact or Anecdote: The omega-symbol palm tree served as a natural marker for boat captains in the past.
Practical Information: Explore the main wall at 60 feet and look for the Cero speeding through the water.
Safety and Conservation: Follow standard diving guidelines and protect the marine ecosystem.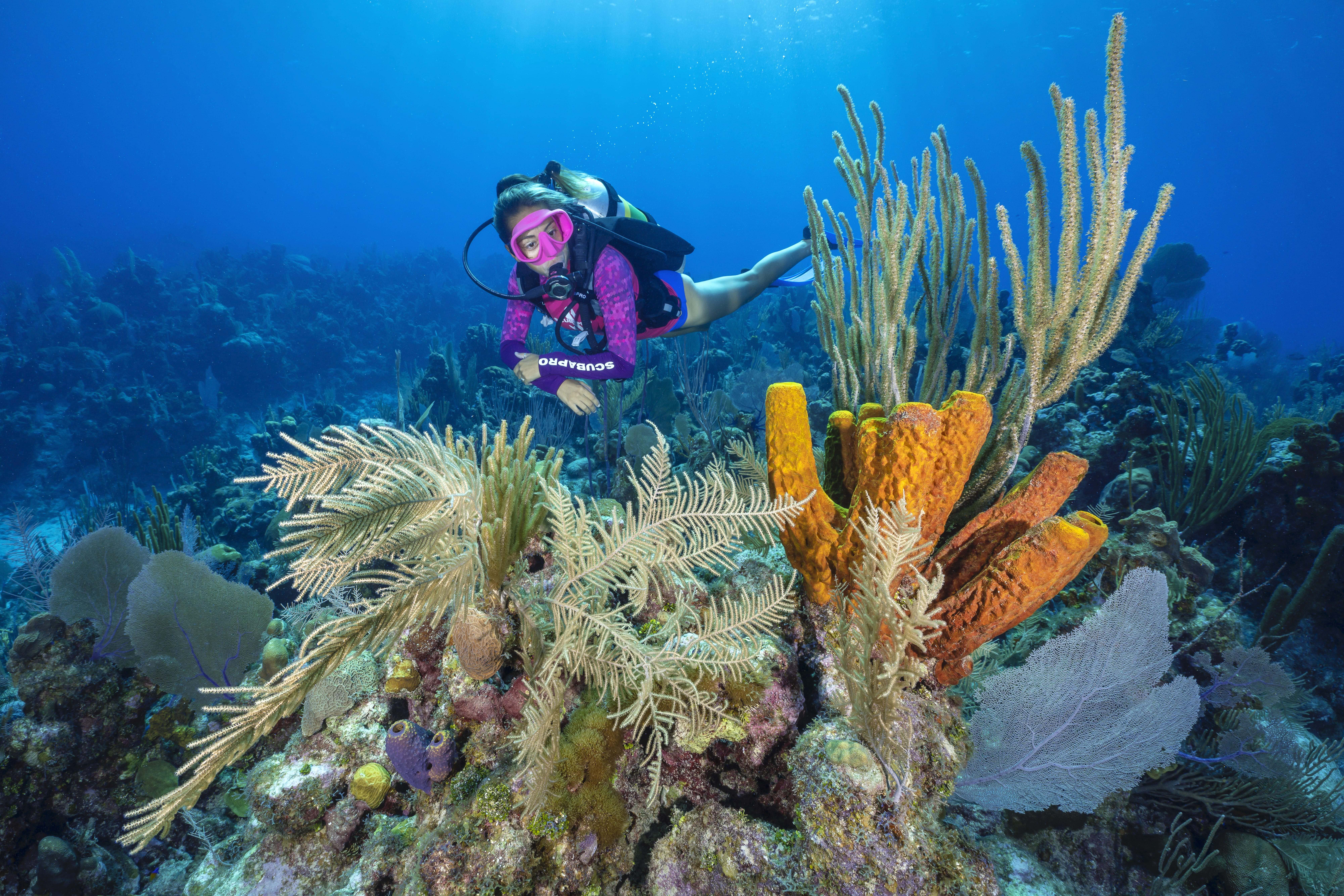 Before dive boat captains on East End had the luxury of GPS and mooring balls, they would line up the boat with a palm tree on shore that had grown crooked and looked like the omega symbol to know they were in the right place.
Omega Reef starts strong right under the boat with a mini wall crammed with life. Its sheltered location allows coral and sponges to proliferate, even in the shallows. Less protected areas usually only have bare rock and hardpan where only the hardiest little sea fans typically survive the passing storms. At Omega Reef, however, the coral has far fewer problems. At just 25 feet in places, there is no loss of color from light absorption in the water, so the reef is a kaleidoscope of color!
If you can resist the temptation to spend your entire dive below the boat, Omega Reef offers a special two-for-one deal; head due north for just a few minutes, and you will arrive at the main wall at just 60 feet on top. Although this is not considered a 'true' wall dive, a leisurely cruise to the wall and back is a great way to explore the site. Look for the occasional Cero speeding its way through the water. Sometimes known as Kingfish, we wonder where these silvery streamlined guys are headed in such a hurry!
About Ocean Frontiers Ltd.
Ocean Frontiers Dive Shop is located on the remote East End of Grand Cayman. Founded in 1996 with one dive boat and a dream to introduce divers to the wonders of East End diving, the company has grown into one of Cayman's premier dive operations with a reputation for legendary customer service and having the island's friendliest staff. Ocean Frontiers is also recognized as one of the most conservation-minded dive operators in the Cayman Islands with a long history of promoting ocean protection through its company programs, and an unwavering support for outside environmental projects. The winner of Project AWARE's Environmental Achievement Award in 2004 and 2010, Ocean Frontiers has again been recognized in 2012. The company also received the PADI Green Star Dive Center accreditation in 2012 for demonstrating a dedication to conservation, the first dive operator in the Cayman Islands to receive this distinction.