Introduction:
Dive into the underwater wonders of Grand Cayman's East End with Ocean Frontiers Dive Shop, the company that wrote the book on scuba diving in this region. With small, personalized groups, the friendliest staff in the Cayman Islands, and the finest dive boats in the Caribbean, Ocean Frontiers offers an unparalleled diving experience. In this first installment of our three-part blog series, we'll introduce you to Ocean Frontiers Dive Shop and what sets it apart from the competition.
Part 1: Ocean Frontiers + Compass Point - Your Gateway to Adventure
At Ocean Frontiers Dive Shop, we combine modern scuba tour operations with old-school hospitality and service. Our dive staff is flexible and eager to accommodate your schedule, offering diving services seven days a week, 365 days a year. Located at Compass Point Dive Resort on the East End of Grand Cayman, our dive shop is easy to find – just look for the big yellow submarine!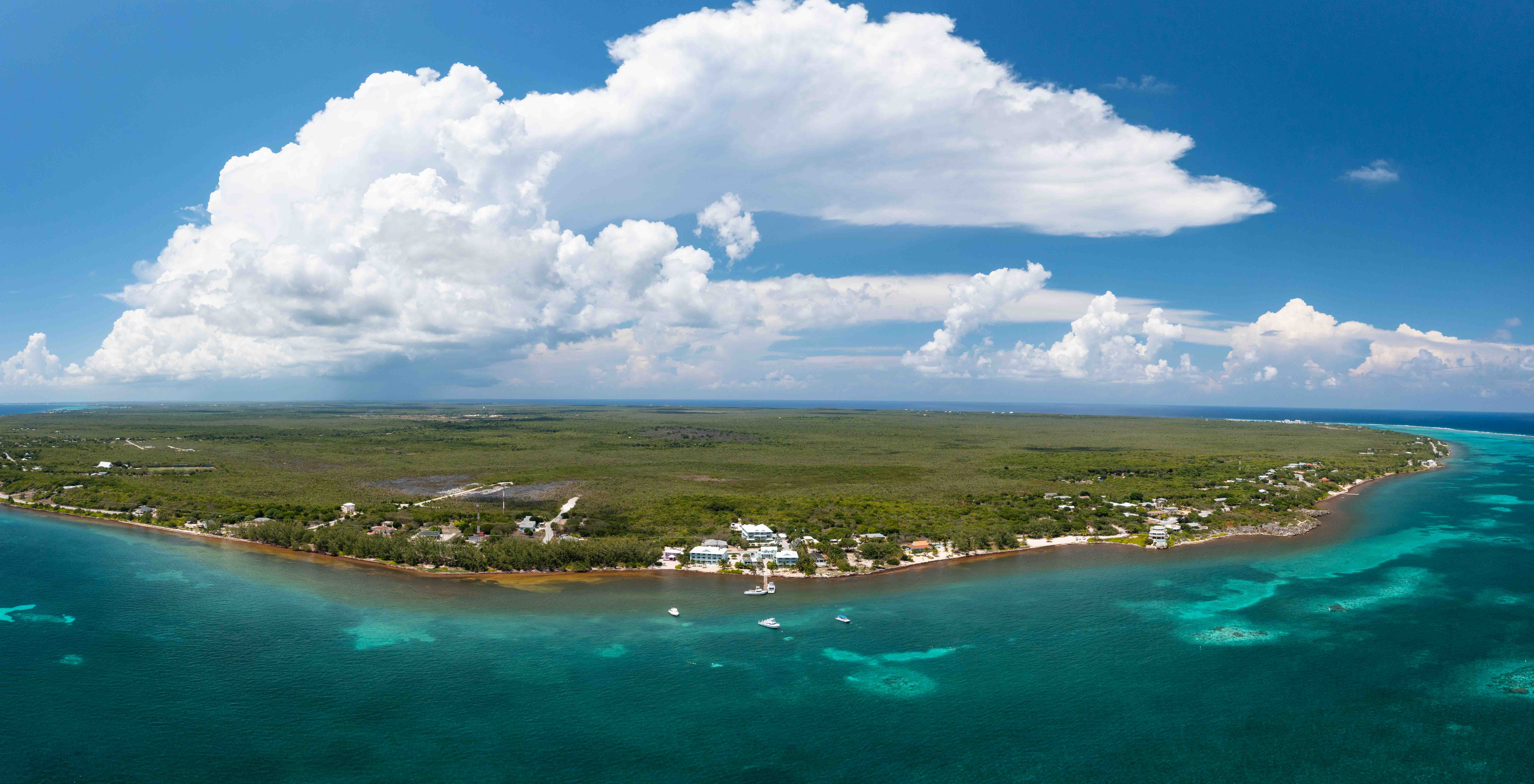 Ocean Frontiers is one of the few dive operations on the East End of Grand Cayman - the most remote and unencumbered part of the Island. We explore 55 dive sites and several dedicated snorkel reefs. The East End is known for its marine life, corals, sponges, and overall reef health, making it the best location for diving in Grand Cayman.
Ocean Frontiers offers "Dive Valet" services, making gear handling, storage, rinsing, and setup hassle-free. In addition to guided dives, we cater to experienced divers with unguided computer diving, Nitrox diving, and photography classes. As a PADI 5 Star IDC School, our dive staff is passionate about diving on the East End and takes pride in providing relaxing, exciting, and caring dive experiences.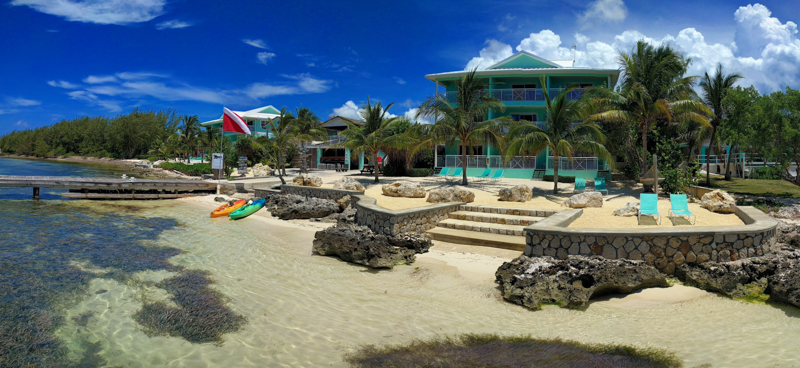 We call our personalized service the "Green Short Service." We listen to the needs of our diving customers and tailor our dive trips to suit their preferences. With a variety of diving options such as 2-tank boat dives, 3-tank safari trips, night dives, wreck dives, and more, there's something for everyone, no matter their level of experience.
Our customers rave about their experiences with Ocean Frontiers, praising our "Gold Star in Customer Service," "Valet Diving at its Best," and "Professional & Polished" operation.
Safety is a top priority at Ocean Frontiers. We adhere to the strict safety standards of the Cayman Islands Port Authority and Tourism Association Watersports requirements. Our dive staff is PADI-certified, trained in search and rescue, and all equipment is maintained and tested to international standards.
Compass Point Dive Resort offers convenient dive and stay packages, allowing you to seamlessly transition from bed to dive boat. The resort features 28 luxurious condominiums, complete with fully equipped kitchens, ensuite bathrooms, stunning views, and a resort style pool. And with Eagle Rays Bar & Grill right above the dive shop, you'll never go hungry or thirsty after a long day on the water.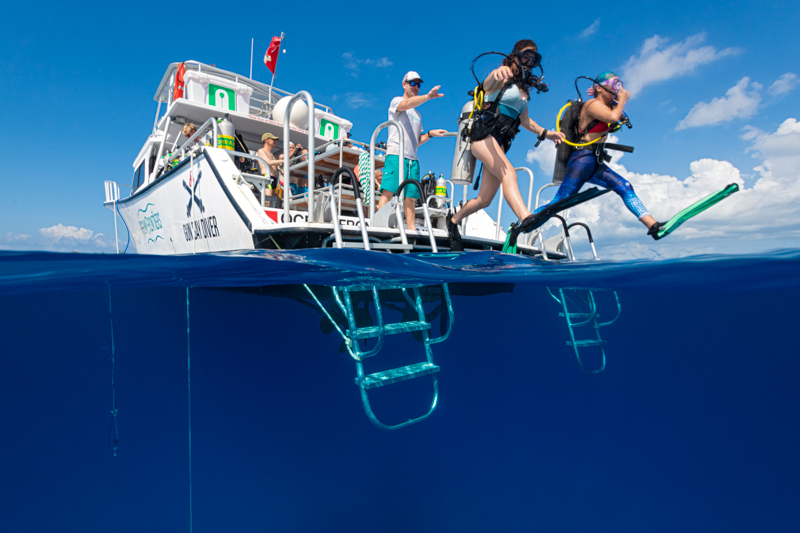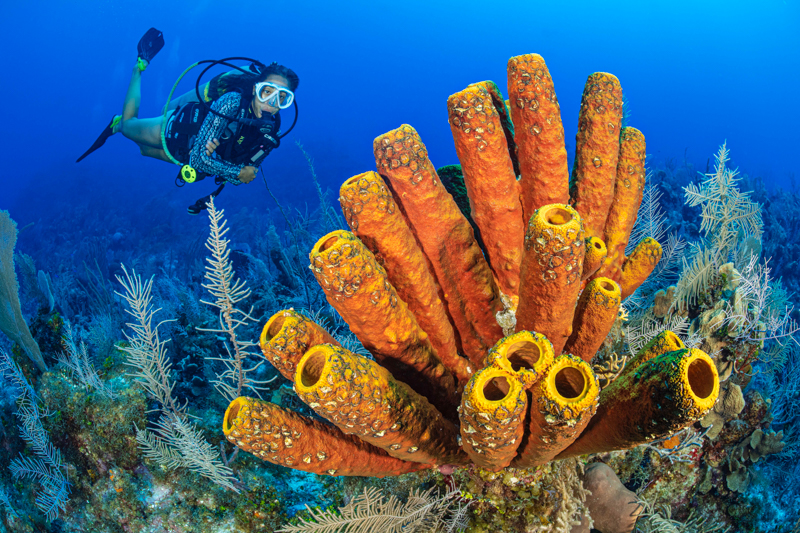 Photos by Alex Mustard
Stay tuned for Part 2 of our blog series, where we'll delve deeper into the diverse diving experiences offered by Ocean Frontiers Dive Shop.