Cayman a great destination for Macro Photography
Cayman a great destination for Macro Photography
Stephen Broadbelt
March 01st 2018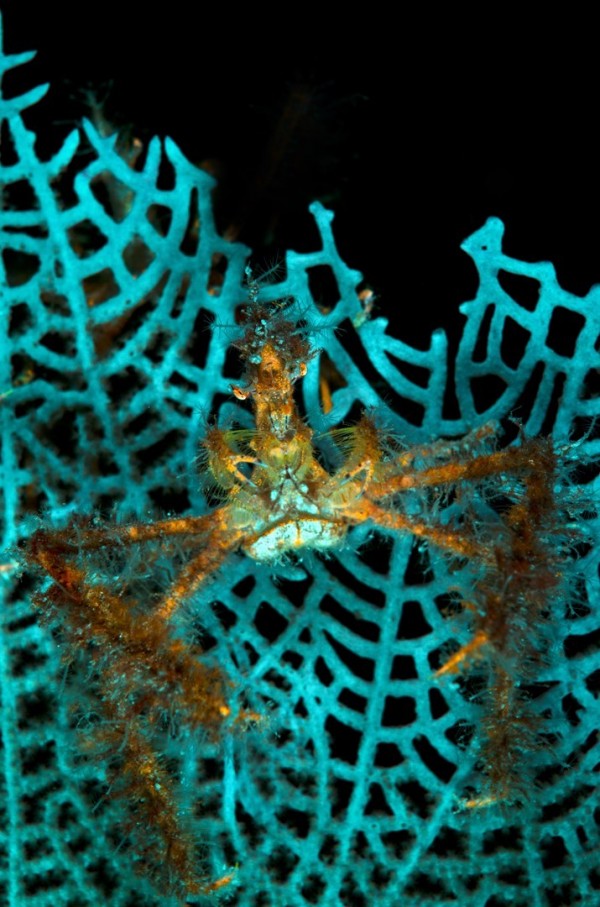 Recognized for its stellar diving with dramatic underwater scenery and big marine life, Cayman is also home to tiny and photogenic marine critters – but you must look closely
Under the calm, clear and shallow water of the Cayman Islands, virtually undiscovered, is a thriving world of tiny sea creatures that are no larger than a grain of rice – a wondrous variety of nudibranchs (soft seagoing slugs), indigenous worms, rare shrimp and critters yet to be found. This curious realm has mostly been overshadowed by Cayman's large-scale dive experiences − dramatic drop-offs, striking wrecks, friendly stingrays – all prime photo subjects that continuously draw underwater photographers from all over the world.
Were it not for avid diver underwater sleuth and photographer Everett Turner, a part-time resident of Grand Cayman, this vibrant "super macro" kingdom of underwater life might still be unknown. In 2012 Turner, his wife Essi Evans and friend Cindy Abgarian published Cayman Nudibranchs, a book that documents 80 species of Cayman's nudibranchs. Most photos were taken in the shallow reefs just yards from his condo at Lighthouse Point on Grand Cayman's northwest point, where some of the island's top dive sites are located.
Turner has been taking underwater photos since enrolling in a course with Cathy Church in 1989. After a Divetech photo event in 2005, Everett, Essi and Cindy began scouring the reefs for subjects to photograph with a macro, or close-up, lens. It wasn't easy. After many shallow dives and a lot of patience, the underwater detectives narrowed their field of vision to small patches of reef and hit pay dirt.
"We'd been looking too big," he remembers, "once we realized that most of the nudibranchs are the size of a grain of rice we started finding them."
With magnifying glasses and macro lenses in hand, Turner and team started discovering and documenting nudibranchs just a few millimeters long, sometimes finding up to 9 or 10 species on a single dive. As their collection of photos grew, so did their amazement at what they were finding – many other fascinating tiny critters.
"Cayman has a tremendous population of dwarf frogfish and pipe horses, but you have to know where to find them and how to look, most people don't see them," says Turner. "
We have seen toadfish gobies, many tiny marine flatworms, leopard flat worms, and likely new species of tiny shrimp."
To try and identify their findings, Turner reached out to prominent marine biologists in Canada, the U.S. and abroad. Some are now using the photographic and other data they collected in studies. The team shared their book with the island's dive shops to let others know about Cayman's rich nudibranch culture. Nudibranchs found in the South Pacific are usually several inches long and found in brilliant colors, so they are easily found, but in Cayman you have to work a little harder for the prize photos.
"Some of the nudibranchs are so tiny they are like small specs so you have to look closer to see the colors," says Everett, who is now teaching others how to find and photograph them. They call it "super macro" photography.
"Everett has taught me the real definition of super macro," says Ocean Frontiers divemaster Brittainy Slade, who asked to come along on a dive. "I was under the impression I could see small things, but he helped me to see even smaller. What is amazing is how well they blend, how small the creatures are and how hard it is to find them, even after thousands of dives here on island!"
Slade's coworker at Ocean Frontiers Colin Bristow is a fellow super macro devotee. Enthralled by the hunt, Bristow says he can't get enough. "There are so many creatures and behaviors out there and people just swim over them and miss out. I was lucky enough to have my camera when I found a Painted Elysia nudibranch on the back of a secretary blenny! That type of experience – discovering new behaviors is what makes me want to do it more often."
Award-winning photographer Alex Mustard, who travels the world, is a frequent visitor to the Cayman Islands and says there is great macro photography in Cayman.
"Nudibranchs, tiny shrimp and other things - they are all there in the Cayman, and they are actually rarer than other parts of the world," he says explaining that Cayman macro critters are less photographed because they are harder to find. "Cayman remains a voyage of discovery for me – I still see new stuff and we're always going to find new subjects to photograph."
"We have good macro with easy access because it's close by, in shallow, clear, calm water," says Cathy Church, who owns and operates the Cathy Church Photo Centre at Sunset House. "I think the key to Cayman is there is always a surprise – I've dived the reef out here a thousand times and every 2 or 3 weeks I'll come back with something new."
In Scuba Diving's 2014 Readers' Choice Awards, Cayman was ranked in the top five Caribbean and Atlantic destinations for macro diving, so word is getting out. Everett Turner reminds photographers to think small when they go hunting for macro critters.
"Everyone goes for the big stuff and they miss the small stuff. I think there is a lot of macro photography to be done in Cayman, but you have to know how to find it."
Collin Bristow, magnifying glass in hand when guiding a dive, is always sharing his finds with guests. "The coolest part is I can still show them something new, even if they've been diving here for a week, or years. It is always exciting when people come up from a dive and ask 'What was the thing you pointed out with the magnifying glass?'"