Become a Open Water Scuba Instructor with an Ocean...
Become a Open Water Scuba Instructor with an Ocean Frontiers IDC
Stephen Broadbelt
September 16th 2016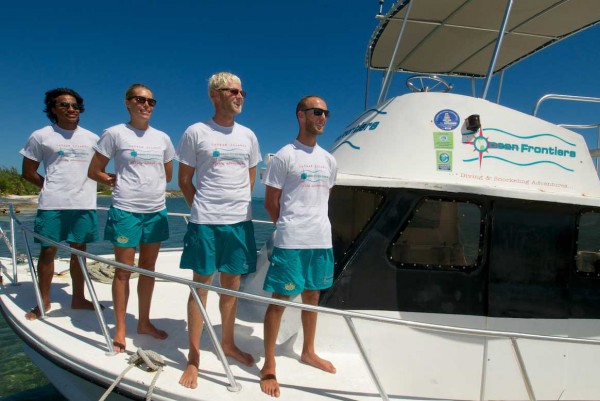 There is nothing better than being able to teach and share your passion with others. Being a PADI Dive Instructor can change your life. You'll get to work all over the world, meet people of different cultures and dive in amazing places. You'll also get to do what you love the most: dive.
PADI Instructors are the sought after dive professionals around the world because they have completed the program that sets the standard for training dive professionals.
I still stand by the fact that no other job has ever given me the reward and satisfaction that I get from certifying divers. The influence you can have on a student is tremendous. Teaching others to dive and giving them an exciting hobby is a tremendous feeling.
Most people would naturally believe that when an IDC starts, the pressure is all on the candidates, the candidates are the ones that are learning new skills, knowledge and understanding of the PADI system. Candidates have to go through days of presentations, assessments and finally attend the Instructor Examination.
However, as a Course Director Our preparations we start preparation months in advance to organize the IDC schedule, prepare logistics, etc. to insure a successful IDC. You as a candidate want the best education, possible. At Ocean Frontiers we focus on the real world, and this is what you need to pass your IE. Ocean Frontier's programs are not only informative and fun; but these courses are generally presented in small groups so that we can personalize the training.
We have one of the most professional and friendly operations in the Caribbean which results in a relaxed environment conducive to learning.
Our Course Director guides candidates through their steps, putting pressure on when necessary, offering reassurance and giving them as much knowledge of the PADI system as possible. Adding to this we make the candidate realize that this isn't about IDC/IE world, but real life application and that everything they are learning now is what they will be using in their careers as PADI Instructors.
During the IDC you will get to know people from all over the world who will become lifelong friends. From a course director's perspective it is important that both the candidates and course director have fun during the IDC activities and during social get-togethers. This is an important part of learning to work and interact with others.
Each day during the IDC we will practice skills, so that in the future you can make the skills look easy to your future students. Also the numerous academic presentations will give you the confidence to get up in front of others when you are teaching.
Also as an added bonus we will discuss the various pieces of equipment that the instructor will need in the classroom, pool and open water.
Ocean Frontiers is dedicated to providing the highest quality training. As a result you will have the ability and confidence to enter your new life as a PADI dive professional.
So why not head to the warm, clear waters of Grand Cayman and take your IDC with Ocean Frontiers? Ocean Frontier's programs are informative and fun.